Free Timer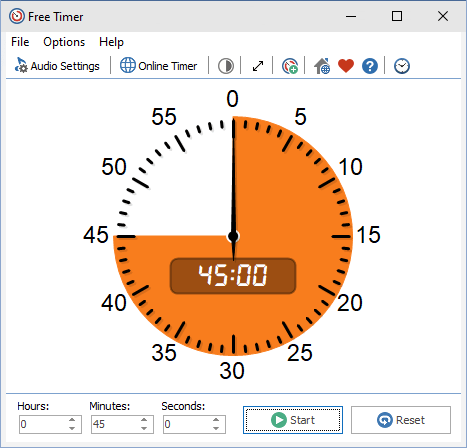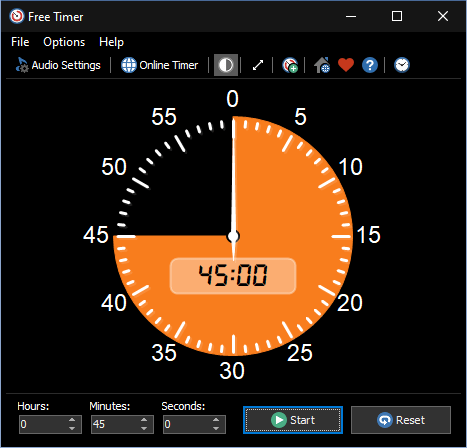 A free, full-featured and lightweight timer for Windows
Free Timer program allows you to create countdown timers that display the remaining time as a colored section of a clock face.
You can set the time in seconds, minutes, and hours. The colored section of the clock face will display the time corresponding to the interval you set:
If the interval is one minute or less, the timer counts in seconds
(a full circle is 60 seconds).
If the interval is one hour or less, the timer counts in minutes
(a full circle is 60 minutes).
If the interval is 12 hours or less, the timer counts in hours
(a full circle is 12 hours).
If the interval is more than 12 hours, the clock face will be covered entirely in the specified color. As for the countdown, the colored section will steadily decrease in size in accordance with the remaining time.
No matter what interval you specify, the countdown timer will move the second hand, which will move counterclockwise.
Run multiple timers at once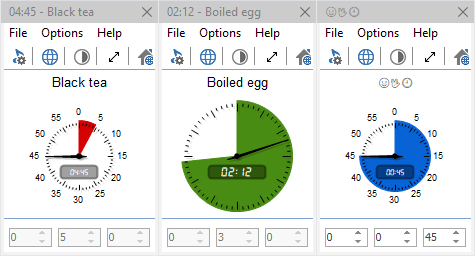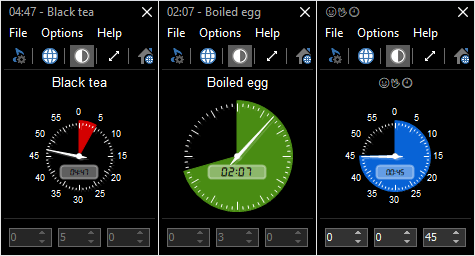 If you need to run several timers at the same time, you can simply run the program as many times as you need. You can also change the colors of timers to distinguish one timer from another.
Quick start
Set the interval and click the Start button. When Free Timer finishes the countdown, your chosen music will start playing and the timer will stop.
You can choose which music or sound to play and how many times it will be repeated. You can change the color of the countdown section, and you can also change the background color from white to black (negative).
Full screen
Free Timer has a special button for full-screen mode. Click this button, and the timer will expand to the size of the monitor or projector. This is especially convenient during exams, tests, reports, laboratory experiments, and so on. The timer will be visible from any part of the classroom or auditorium. To exit full-screen mode, press the Esc button or click on the screen.
Advance notification
You can turn on the metronome (which ticks every second) so that it turns on a few seconds before the end of the countdown. For example, set the metronome so that it starts one minute before the end of the exam to attract students' attention.
Free Timer can play music files
You can select the sound you want for a timer. Free Timer comes with several sounds and offers full access to your music library.
Run it from your portable USB flash drive
You can put Free Timer on a flash drive and run it directly from there. In this way, all your timers will always be with you, the settings will be stored in file Data.ini.
Download: Free Timer Portable.
Just extract it to any folder where you want to store it and run FreeTimer.exe in order to launch the program.
---
Do you need more information? Take a look at the help page: Online Help.
Share: